trivia
BASS Comic
A printed comic was included with the original version of Beneath a Steel Sky. The comic, along with other game artwork, was created by Dave Gibbons. The comic was also used as the intro in the game, with the voice actors talking over it. There were a total of 8 pages.
"Don't be a..."
What's that written on the right wall in Anchor Insurance?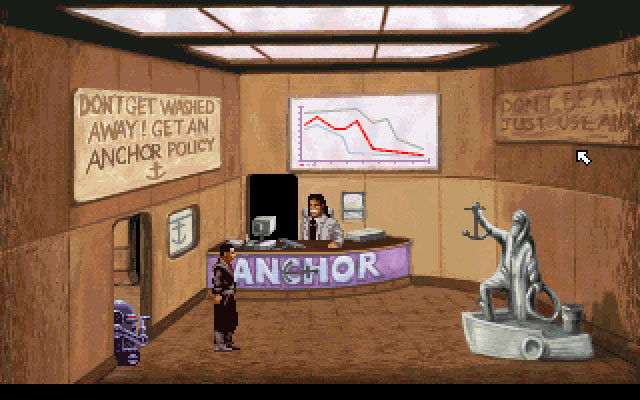 Ultar
The name Ultar appears from time to time in Revolution games. In Lure of the Temptress, Ultar the barbarian is sitting having a pint in one of the pubs. Also, those of you who have also played Broken Sword 1 will recognise the name Ultar as the taxi driver in Syria. In Beneath a Steel Sky he is mentioned twice:
When you swing into the locker room upstairs in the police station, there's a locker with his name on it. Foster remarks that it's written in crayon. (Thanks to Alex for sending this in.)
Furthermore, there's an ad for Ultar's Eatery on one of the LINC menus.
Turnvale
Another Lure of the Temptress reference is found in the game manual. Turnvale, the setting of LOTT, is mentioned a number of times, including:
THE FOLLOWING BLOCKS ARE CURRENTLY
UNDER HIGH SECURITY OBSERVATION

TURNVALE TOWER...........305
Also, Mrs. Piermont is said to live in Turnvale Tower 642. (Thanks to Kirik for sending this in.)

Found another Easter Egg, or have some trivia about the game? Tell us!